Jolyon Palmer grabs GP2 crown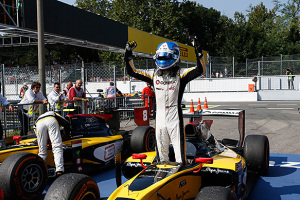 Jolyon Palmer made record breaking history by sealing championship victory on October 11th at the tenth round of the prestigious international GP2 series in Sochi, Russia. He becomes only the second driver after 2006 Formula 1 World Champion, Lewis Hamilton, to win the GP2 title for Britain.
Sponsored by Comma – a brand of Cosan Lubricants – and driving for the French Le Mans-based DAMS team to which Comma is also Technical Partner, the 23 year old Palmer from Horsham, England, claimed the title with two races remaining, before the GP2 season is due to end in November. His winning Feature Race performance at the new Autodrom at the Sochi Winter Olympics complex followed three other commanding wins earlier in the year at Bahrain, Monaco and Monza, Italy.
Palmer also set a new championship record for the greatest number of GP2 points – 256 – scored in a season, thanks to achieving no fewer than eleven podium finishes so far in 2014, and with the two end-of-season contests in Abu Dhabi still to be run. With a 51 point lead in the GP2 Teams Title battle, DAMS look certain to add a third victory in the last four years.
Comma has supported Palmer's path to the top ever since he began his single seater racing career at the age of 16. "Motorsport has always been a central element in the technical development and promotion of the Comma brand," says Comma spokesperson, Mike Bewsey, "and we began our relationship with Jolyon as part of a larger Technical Partnership with the MotorSport Vision (MSV) group of companies."
MSV is headed by Jolyon's father Jonathan – himself a former Formula 1 driver – and includes ownership of the iconic Brands Hatch and three other leading British motor racing circuits, as well as the world famous PalmerSport corporate driving experience.