Meyle enters OE contract with Morgan
English motor car manufacturer Morgan and Hamburg-based automotive spare parts manufacturer MEYLE have told Autotechnician of their rewarding collaboration in exclusive sports car building.
The small Midlands town of Malvern is home to the world-renowned Morgan Motor Company, which has been building its iconic sports cars here since 1909. Every year, the company hand-builds some 1,000 vehicles. The British manufacturer works with an exclusive group of suppliers to maintain its high standards of quality and MEYLE is now working with Morgan, supplying various items from its MEYLE and MEYLE-HD ranges for the current Morgan Aero 8 model. The same parts are also used to equip the Aero Racing Team.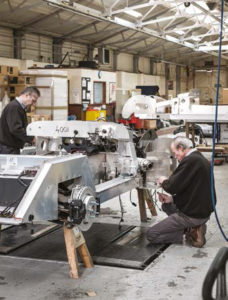 PARTNERSHIP TO BENEFIT WORKSHOPS
"Being one of Morgan's tier-one suppliers is testimony to our uncompromising commitment to quality", says André Sobottka of MEYLE. "Our business focus will remain on the aftermarket. But being the sparring partner of an OEM company is a great opportunity for us to apply our extensive expertise while generating new insight. Ultimately, it is our workshop customers who benefit most from the synergies between MEYLE and Morgan, as the results of this collaboration are looped back into the development process of our MEYLE parts."
ATTENTION TO DETAIL
Morgan Motor Company has a meticulous approach to craftsmanship – no more than four cars leave the assembly stand each day. The small family business focuses on low volumes, premium-grade materials and flawless workmanship, carving itself a niche in the thriving automotive production industry in Great Britain.
Morgan has partnered with MEYLE due to its shared commitment to quality, with its MEYLE and MEYLE-HD parts being hand- fitted to the Aero 8 model – about 150 of these cars are planned to leave the Malvern site each year.
"Our collaboration with Morgan is a perfect match. It brings together two family-run businesses sharing the same passion for quality solutions, innovative technologies and keen eye for the detail", explains Sven Nielsen, Head of Strategic Product Development at MEYLE. "Morgan offers an infinite choice of exclusive interior styling options and it was when the suspension got a makeover with the new Aero 8 edition that MEYLE came into play."
"We are not able to hand-craft all components ourselves, so we need vendors who are as uncompromising about quality as we are. We benefit from the innovative power of other companies looking for a partner to walk through the engineering process with us", says Jon Graham at Morgan Motor Company. The first revamped Aero 8 model left the Morgan plant in January, with a suspension packed with MEYLE and MEYLE- HD technology; with ball joints, tie rods, tie rod ends, stabiliser links and suspension bushings.
MEYLE's team of engineers were involved from the outset and consulted on every design change. Improving part durability and simplifying installation and removal have always been the focus in its product design, and is embodied in its premium MEYLE-HD brand.
MORE TO COME?
The joint venture may not end there, with the possibility of supplying further components for the Aero 8 and other models in the future.
"Far from resting on this success, we are determined to intensify our partnership with Morgan", emphasises Nielsen. "Encouraged by the joint development work there is a possibility that MEYLE will be supplying other components for Aero 8 model in the future. We may also start collaborating with Morgan on other models."