MEYLE-ORIGINAL glow plugs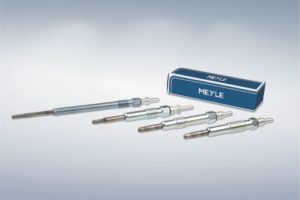 As DRIVER'S BEST FRIEND, Meyle brand offers 23,000 solutions to make vehicles around the globe perform longer and more reliably so that motorists all over the world can safely rely on MEYLE quality. Among these solutions are 1290 MEYLE-ORIGINAL glow plugs for all standard applications and around 60 glow-time control unit kits in MEYLE-ORIGINAL quality which include the control unit and the appropriate glow plugs. 
Why MEYLE-ORIGINAL glow plugs are the Driver's best friend?
• Without glow plugs, your engine won't start: Glow plugs ensure your diesel engine starts even in icy temperatures and runs with low-noise and low-emission.
• Extremely high quality and reliability according to OE specifications ensure perfect functioning at temperatures as low as -40°C.
• Broad coverage: MEYLE has a total of 129 references of MEYLE-ORIGINAL glow plugs for standard applications in its portfolio, covering more than 87 per cent of all diesel vehicles throughout Europe.
• Complete package: In addition to the glow plug, MEYLE also provides the appropriate control unit.
Starting today, Nov 8 until Nov 22 MEYLE-ORIGINAL glow plugs are available at 5% additional discount in all SIM IMPEX retail stores.
MEYLE'S ADVICE: Glow plugs should be replaced every 80,000 to 100,000 kilometres. We recommend that all glow plugs be replaced at the same time to avoid subsequent repair work. When replacing the glow plugs, the control unit should also be checked.